Your Local Expert for All Types of Water Removal and Restoration Services
Call (239) 478-3339
for all types of Water Removal and Restoration
Cleaning water damage in Naples, Bonita Springs, Estero, Ft Myers, Cape Coral and Punta Gorda Florida
Water damage can occur suddenly and cause widespread damage to your property. It is imperative that you contact FloStop as fast as possible. We offer fast and reliable water damage clean-up services. We have state of the art equipment for water removal and restoration. FlowStop has emergency water damage clean-up services 24 hours a day, 7 days a week. When you contact us, you know you are getting the best service possible in Southwest Florida!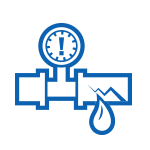 WATER HEATER LEAK CLEANUP
Leaking hot water heaters are an expensive problem. Not only do you risk water damage, but you could also end up with a sky-high energy bill. A lot of people tend to take their water heaters for granted.

Many people fail to realize the seriousness of a sewage back-up. While it's certainly a smelly situation, the stench is the least of your worries. According to the EPA, sewage can contain a host of communicable diseases, things like E-coli and Hepatitis-A, that can be contracted through touch and/or are airborne.

BURST PIPE DAMAGE RESTORATION
A burst pipe can be a major headache for homeowners if not repaired right away. Water damage, backed up systems, and possible electrical issues are just a few problems that may occur. If you have a burst pipe, turn off your water supply at the stopcock and move furniture and other valuables away from the water.

MOLD INSPECTIONS - REMOVAL & REMEDIATION
Proper identification, containment and remediation are the main aspects when handling any potential mold exposure. Our prompt response is the main key to prevent any more mold growth, especially when there is water damage.
Call FloStop Restoration Today
24/7 Emergency Cleanup & Restoration – We'll Be There in Less Than 1 Hour