Fire & Smoke Damage Restoration
Smoke & Fire Damage Cleanup & Repair in Southwest Florida
Fire Damage Repairs in Fort Myers, Sarasota, & More
After a fire and smoke incident, delay is your worst enemy when it comes to the restoration of your home. Call FloStop to get your home restored back to its original state as soon as possible. We are available 24 hours a day, 7 days a week to assist you with your fire and soot problems, and we will manage the insurance issues as well. Our team of qualified, experienced professionals have helped countless individuals and business owners in Southwest Florida return to normal following fires, from moderate to severe damages. If you need fire and smoke damage restoration services in Lee, Sarasota, Charlotte, or Collier County, give us a call now!
Why Call FLOSTOP for Fire & Smoke Damage?
24/7 emergency response time – less than 60 minutes
Deductible assistance up to $1,000
$0 cash down $0 out of pocket many times
Certified IICRC, licensed and insured
Free estimate
Approved to work with most insurance companies
After a fire and smoke incident, delay is the enemy of the restoration of your home. You get assurance from us that we will take care of your homeowners insurance and restore your home back to its original state, as we are available 24 hours a day to assist you with your fire and soot problems. Our team of qualified and experienced professionals have helped countless individuals and business owners in Southwest Florida return to normal following fires of various types.
If you need water damage restoration services, please call us.
Call FloStop Restoration Today
24/7 Emergency Cleanup & Restoration – We'll Be There in Less Than 1 Hour

When dealing with the odor of smoke, it is recommended to have an understanding of the type of fire. The type of chemicals that burned during the fire and the presence of other flammable materials in the house will impact the sorts of odors that result.

We remove all the water after the fire has been squelched. The next in line is the smoke and soot cleanup, done carefully, with the most advanced equipment and techniques.

Soot is oily in its makeup, and it has the ability to move quickly throughout any structure. Thus, professional soot cleaners utilize powerful machinery and vacuums designed to lift soot from fabrics and other materials.
Our Fire Restoration Process
We guarantee a thorough, expeditious restoration process to get your property back to its original condition. The process of how we restore your property varies from instance to instance, but here are the general bones of it:
Evaluate the area — Before we begin cleanup and restoration, we scrutinize your property for structural damage and other types of issues that could make it unsafe to enter.
Identify the source — We classify the type of fire that has occurred, which impacts how we go about restorations. There are six types of fires:
Class A — Solid fuel, such as wood and plastics
Class B — Liquid fuel, such as petrol and paint
Class C — Gas combustibles, such as methane and propane
Class D — Industrial combustibles, such as titanium and aluminum
Class E — Electrical fires
Class F — Cooking fires
Once the fire is verified as out and the property is determined to be safe to enter, our professional restoration team quickly gets to work, starting with the creation of a plan of action.
Remediate water damage — It sounds counterintuitive, but after your home has been soaked by the firefighters when putting out the fire, it may have both fire and water damage that needs to be addressed. If there is water damage, you can rely on FloStop to get it addressed quickly to minimize damages.
Protect the property from further damage — Depending on the damages, it may be necessary to board up windows and put a tarp up on your roof, to maintain security and protect against any more damage.
Minimize fire damage — One reason why it's important to hire a professional fire and smoke restoration company right after the fire is because doing so can help reduce damages and loss. The faster you act, the more likely you will be able to save your carpets, textiles, metals, walls, carpets, and so on from permanent damage. One
Soot & debris removal — We remove all debris and soot from your home to further mitigate damages and improve air quality.
Packing out — We carefully will remove your belongings for further cleaning and storage.
Cleaning & sanitizing — An important part of any restoration project is deep cleaning and deodorizing. From carpets to curtains, the smell of smoke can be tough to get out. Rely on the experts at FloStop to give your belongings the best chance they can get to be restored.
Repairs & renovation — From structural restorations and replacing carpets to wall repainting and wood refinishing, we are your one-stop restoration services company for after the fire.
Return items — After finishing the repairs and renovations, our restoration company returns all your items to their original locations.
From initial evaluation through to complete restoration, FloStop Restoration LLC is with you every step of the way. We treat each and every client like family. Our crew is 100% dedicated to providing excellent service, fast response times, and the most competitive prices for restoration services in Southwest Florida. Contact us today to begin renewing your property.
We Treat Your Home or Business Like Its Our Own
Fire And Smoke Restoration Services For Commercial And Residential Properties:
On Site Promptly
Restoration/Clean Up For Fire And Smoke
Assessment of Fire & Smoke Damage
We File Your Claim
Environmentally Friendly Cleaning Methods
Smoke And Odor Sanitation
Household Goods & Items Protection
Water Dry Out Preventing Mold
If you need water damage restoration services, please call us.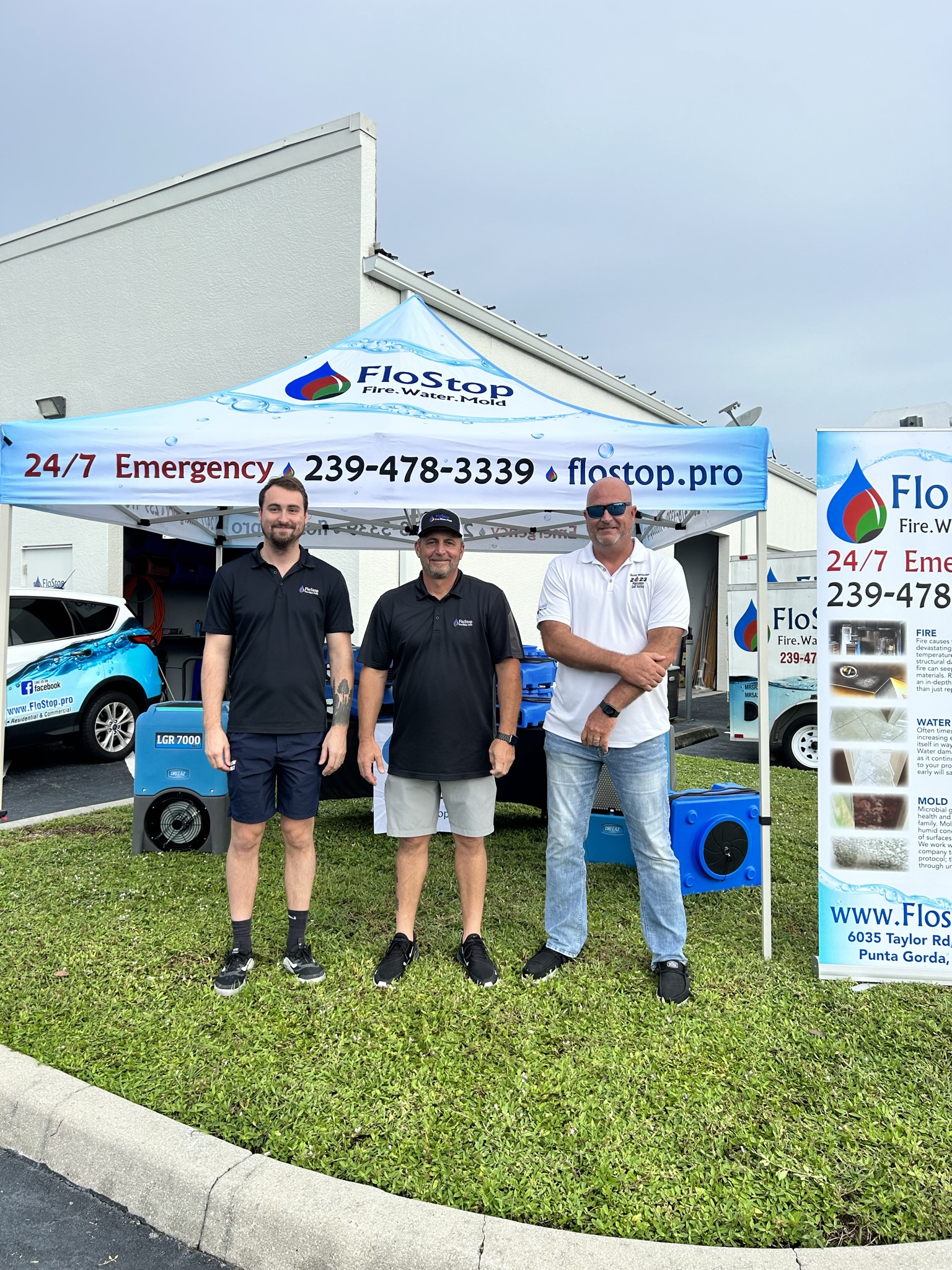 We provide fire damage restoration services all around Southwest Florida. Our locations include:
Boca Grande
Bonita Springs
Estero
Cape Coral
Fort Myers
Port Charlotte
Sarasota
Venice
North Port
Punta Gorda
Englewood
Marco Island
Naples
And many other cities!
Leave All Your Restoration Needs to Us
FloStop Restoration LLC provides emergency fire damage restoration services all over Southwest Florida. Our team of fire damage specialists are able to get started any time, any day, and will be at your property in less than an hour after you call us for an emergency. Rebuilding your life and your property after a fire can be a difficult task. That's why we're committed to providing our clients fast, reliable, effective restoration services — to help your life start feeling normal again as soon as possible.
If your commercial or residential property has recently been subjected to fire damage, it's imperative that you get it addressed ASAP. After calling the fire department and the fire is out, contact FloStop Restoration LLC and we'll respond immediately.