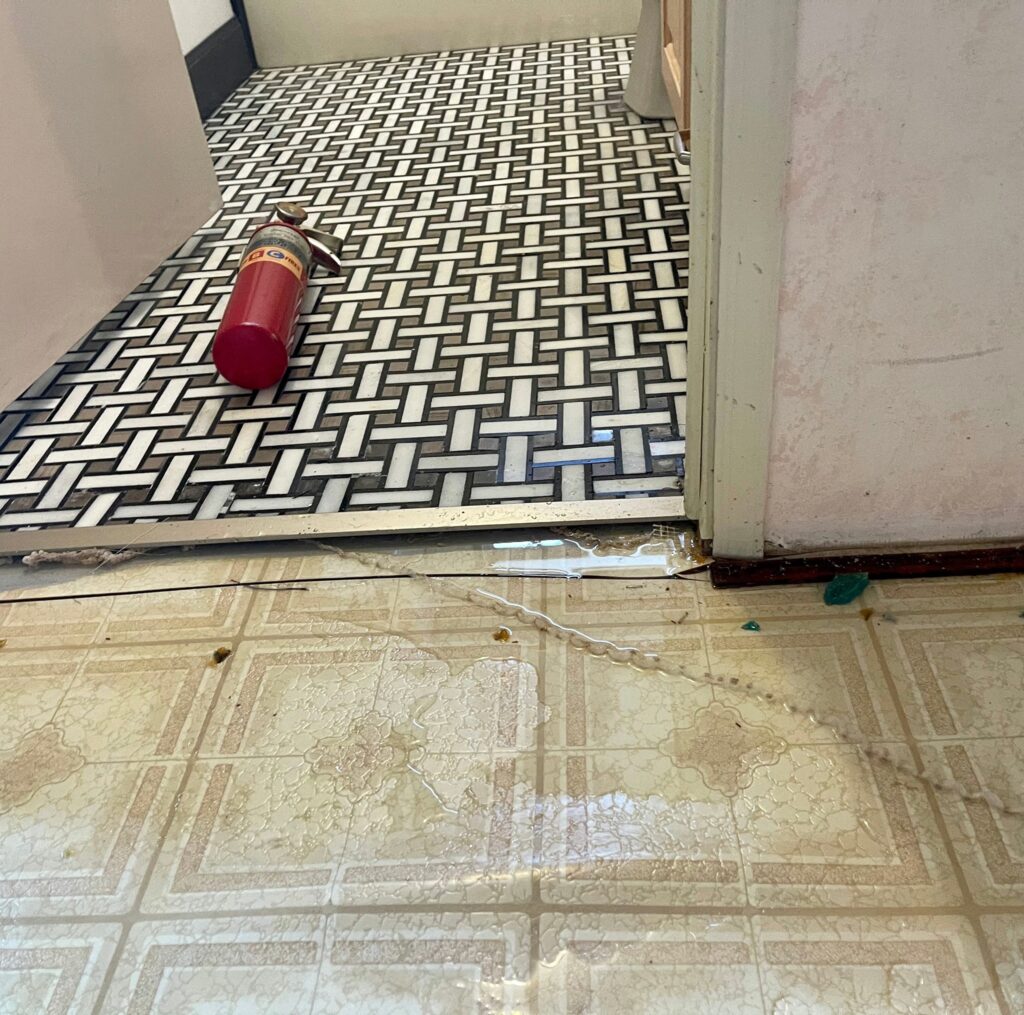 Here is a super fast breakdown of what to do, just in case you're reading this as the water is rising in your home:
STOP the water at the source
Turn OFF electricity

ONLY do this if you can safely reach your fuse box without standing in water

EVACUATE your home
When your home floods, it seems to happen at the worst possible time. That's because no one ever expects it to happen! When a toilet floods your home, it's an incredibly shocking event. You don't expect to see or hear water flowing from your bathroom.
After these crucial initial steps, you can start the process of recovering your home from the water damage:
Stop The Water
Before you do ANYTHING else, you'll need to stop the flow of water. Find your water main shut off valve and turn it off. You won't be able to do anything else to help your home until you stop the source of the flooding.
Turn Off Electricity
If you can do this safely, shut off the power at your fuse box. ONLY do this if you can reach the fuse box and use it without standing in water. As you know, water and electricity are incredibly dangerous. If you can safely and easily shut off the electricity in your home, you should do it. If you can't reach your fuse box without walking through or standing in water, call an electrician. Call the experts, and don't put yourself in harm's way.
Evacuate Your Home
Now that you have shut off the water and electricity, you need to get out of the home. Gather what you need, and what you can, and get out of the house. This ensures you will stay safe, and begin the process of restoring your home.
Call The Insurance Company
First, you'll want to call your home insurance company. Tell them what happened and give them all the information you have to start the claims process. If the incident is covered under your home insurance, they can give you advice about what to do next. Sometimes, the insurance companies will call a water restoration company for you, but you might have to do that yourself.
Document Everything
As safely as possible, take photos, record events, and try to keep the most detailed log you can regarding the flooding incident. Be careful not to touch the standing water in your home. It could have come from the sewer, or other hazardous sources. Try to document everything you can in a SAFE manner. All of this information will be useful for the insurance company, as well as the flood restoration company.
Start Restoring Your Home From The Flood
The next step is to start the cleanup and rebuilding process. This can take some time, and usually happens in a few phases. The initial phase is getting the water out of your home and getting your home dry. A water restoration company will remove the water from your home and place fans throughout to get everything dry.
The next phase of restoring your home from a flood is inspecting the home for mold. If your home has mold damage, the water restoration company will start the process of remediating the mold. Mold damage can be especially dangerous to your physical health. You will want to make sure your home is free of mold before reentering the home.
Once your house is safe to reenter, you can start renovating the damaged parts of your home. This could be new flooring, baseboard, cabinets, etc.
Most water restoration companies can also facilitate your renovation process, which makes the insurance process easier. FloStop is one of those companies. We can see you through the entire process; from cleanup to restoration.
If you are currently experiencing flooding in your home, call us now. We are available 24 hours a day to help!